10 for $15!
Mon February 17
@
5:30 pm
–
7:30 pm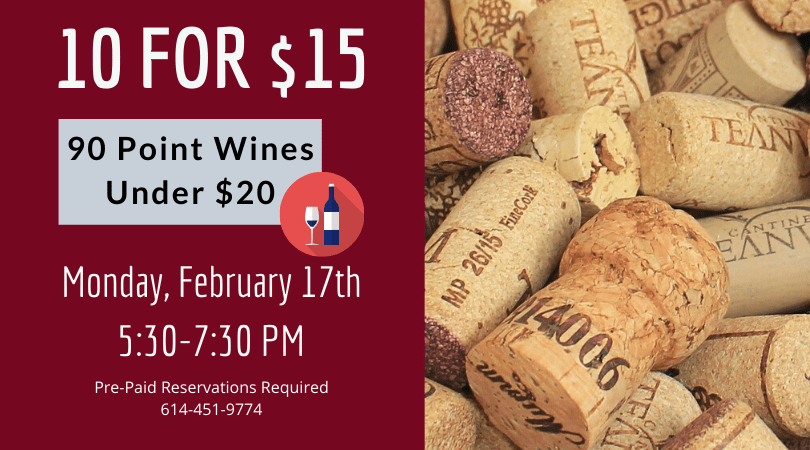 10 for $15!
Calling all wine lovers – this one's for you! A good glass of wine is already something to boast about, but a great one for UNDER $20? Unbelievable. To make it easier, here's our list of 90+ point wines that are sure to please both your palette and your wallet.
Monday, February 17th
5:30 – 7:30 pm
Prepaid reservations required.
Ten Wines with Crafted Breads
$15 per guest *plus tax
Reception
Taste at your own pace
A casual stand up Wine Event
Ten Wines with Crafted Breads
************
$15 per person plus tax
48 hour cancellation policy for full refund
Prepaid reservations required.
Limited seats available.
The Wine
Shaya Sauvignon Blanc 2018 $12.99 93 GP
Solena Pinot Gris 2018 $14.99 91 WE
Grayson Cellars Chardonnay 2018 $11.99 97 WX
Bodini Malbec 2018 $9.99 90 JS
Masciarelli Montepulciano d'Abruzzo 2016 $11.99 92 JS
Blau 2017 $13.99 90 V
Masseria Surani Heracles Primitivo 2016 $17.99 91 JS
Errazuriz MAX Carmenere 2017 $18.99 93 JS
Penley Estate Phoenix Cabernet Sauvignon 2018 $19.99 92 JS Forge Cellars Riesling Dry Classique 2018 $19.99 91 WS