Benny Benack III
Recurring event
see all
June 19th and 20th
Mon June 19
@
5:30 pm
–
8:00 pm
Seating is limited; make reservations early to secure your table.
Four-Course Dinner and Private Concert 130. per guest (+tax and gratuity)
Advance online Reservations (or phone 614-451-9774) are required and confirmed with cc. See booking and cancellation policy below.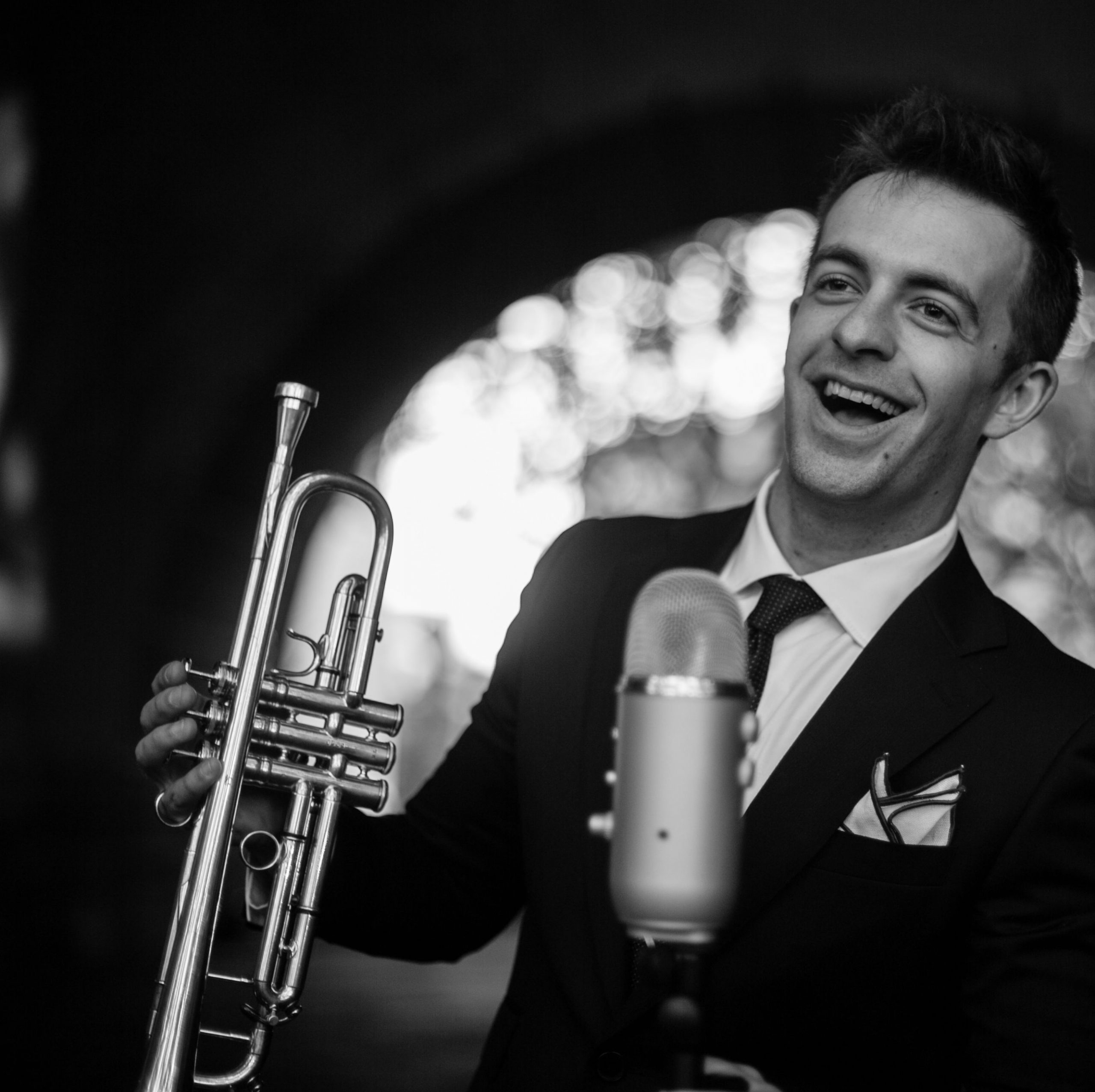 Dinner and a show in our large Dining Room!
The Dining Room will allow us to distance all the tables and with an elevated stage, every table will have a good view.
Enjoy Chef Richard's Four-Course dinner before the show
and then sit back and relax to enjoy the show along with dessert.
Four-Course Dinner and Concert
130. per guest (+beverages, tax, and gratuity)
Please plan to arrive at 6:00 pm to be seated
let us know if you need to arrive later (up to 6:30)
Benny Benack III
By age 31, Emmy-nominated trumpeter and singer Benny Benack III has proven to be that rarest of talents: not only a fiery trumpet player with a stirring command of the postbop trumpet vernacular in the vein of Kenny Dorham and Freddie Hubbard, but also a singer with a sly, mature, naturally expressive delivery in the post-Sinatra mold, performing standards and his own astute songs with a thrilling sense of showmanship. This duel-threat ability was recognized by the 2022 Downbeat Critics Poll where he appeared as not only the #2 Rising Star Male Vocalist, but a top Rising Star Trumpeter as well. His superb intonation and bracing virtuosity enable him to handle astounding feats of originally composed vocalese (complex solos with written lyrics). On top of it all, he's a highly capable pianist as well.
Benny has performed internationally as an Emcee/Host for the Youtube sensation Postmodern Jukebox, and achieved his own viral success amassing millions of views for his crooning alongside the Grammy-award winning "8-Bit Big Band". In early 2020 he released A Lot of Livin' to Do, the follow-up to his well-received 2017 debut One of a Kind. This sophomore effort, richly varied in mood and brimming with bop inflection, features bassist extraordinaire and Jazz ambassador Christian McBride (whose Grammy-award winning Big Band frequently calls upon Benny in the trumpet section) and drummer/producer Ulysses Owens, Jr., as well as the radiant Takeshi Ohbayashi on piano and Rhodes. His vocalese duet on "Social Call" from this album alongside fellow young star vocalist Veronica Swift became an instant smash hit single, being transcribed and learned by Jazz vocalists around the world.
The Menu
Ohio Green Asparagus and Wild Mushroom Salad
Heritage prosciutto, choron vinaigrette
~
Seafood and Scallop Marble
Saffron vin blanc sauce
~
Stuffed Duck Breast
with chicken cervela, provençale olives velvet sauce
~
Strawberry Feuillete
Pistachio chantilly, duet of coulis
(Subject to change)
~optional wine pairings available~
The menu can be adjusted for Vegetarians, all seafood, all meat, or any other dietary concerns. When making reservations; please note your request and then call us to confirm at 614-451-9774
Booking Policy – Thank you for joining us! Reservations are secured with a credit or debit card.
Your card will not be charged for the evening.
At the conclusion of the event, your table check will include the dinner, music cover, and beverages.
Please see the cancellation policy below. We look forward to serving you soon!
Four-Course Dinner and Concert 130. per guest (+tax and gratuity)
Cancellation Policy – Should your plans change, please let us know at least 48 hours before your reservation and we will issue a full refund.
Cancellation made after this period will incur a $25 fee per guest.
Thank you for your understanding and support!