Colin Lazarski's NOLA Quintet
Mon February 20
@
5:30 pm
–
8:00 pm
Seating is limited; make reservations early to secure your table.
Four-Course Dinner and Private Concert 130. per guest (+tax and gratuity)
Advance online Reservations (or phone 614-451-9774) are required and confirmed with cc. See booking and cancellation policy below.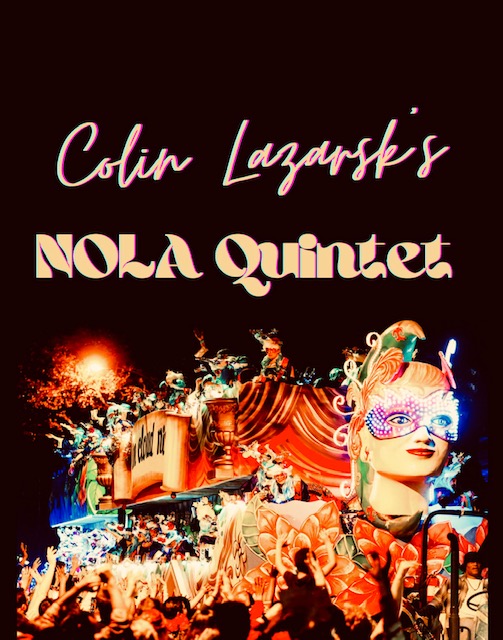 Dinner and a show in our large Dining Room!
The Dining Room will allow us to distance all the tables and with an elevated stage, every table will have a good view.
Enjoy Chef Richard's Four-Course dinner before the show
and then sit back and relax to enjoy the show along with dessert.
Four-Course Dinner and Concert
130. per guest (+beverages, tax, and gratuity)
Please plan to arrive at 5:15 pm to be seated
let us know if you need to arrive later (up to 6:30)
Live Performance will begin at 7:00 pm
Colin Lazarski's NOLA Quintet
An incredibly versatile guitarist, Colin is accomplished in a variety of styles including jazz, blues, rock, funk and even calypso. It is that very flexibility that allows him to easily meld with a wide range of players. He performs both as a leader and a sideman and can be seen around town performing with other artists such as Dave Powers, Andy Woodson, Tony Monaco, Vaughn Weister's Famous Jazz Orchestra, The Columbus Jazz Orchestra, Dick Mackey, The New Remnants Dance Orchestra and his own trio or quartet. Based in Columbus, Colin leads the Trinidaddies and is a member of the New Basics Brass Band and Jesse And The Royal Tycoons. He also maintains a busy schedule performing a wide variety of private parties, corporate events, and concerts at local clubs and festivals.
The Menu
Chilled Crawfish Terrine
Red bell pepper mousseline
~
Hunters Gumbo
Andouille, okra, duck, long grain rice
~
Duet of Blackened Filet and Lump Crab Cake
Beaujolais sauce piquante, whole grain mustard sauce
~
Warm Brioche Bread Pudding
Bourbon sauce
(Subject to change)
~optional wine pairings available~
The menu can be adjusted for Vegetarians, all seafood, all meat, or any other dietary concerns. When making reservations; please note your request and then call us to confirm at 614-451-9774
Booking Policy – Thank you for joining us! Reservations are secured with a credit or debit card.
Your card will not be charged for the evening.
At the conclusion of the event, your table check will include the dinner, music cover, and beverages.
Please see the cancellation policy below. We look forward to serving you soon!
Four-Course Dinner and Concert 130. per guest (+tax and gratuity)
Cancellation Policy – Should your plans change, please let us know at least 48 hours before your reservation and we will issue a full refund.
Cancellation made after this period will incur a $25 fee per guest.
Thank you for your understanding and support!