Djangophonique
Tue October 5, 2021
@
5:30 pm
–
8:00 pm
Seating is limited; make reservations early to secure your table.
Four-Course Dinner and Private Concert 120. per guest (+tax and gratuity)
Advance online Reservations (or phone 614-451-9774) are required. See booking and cancellation policy below.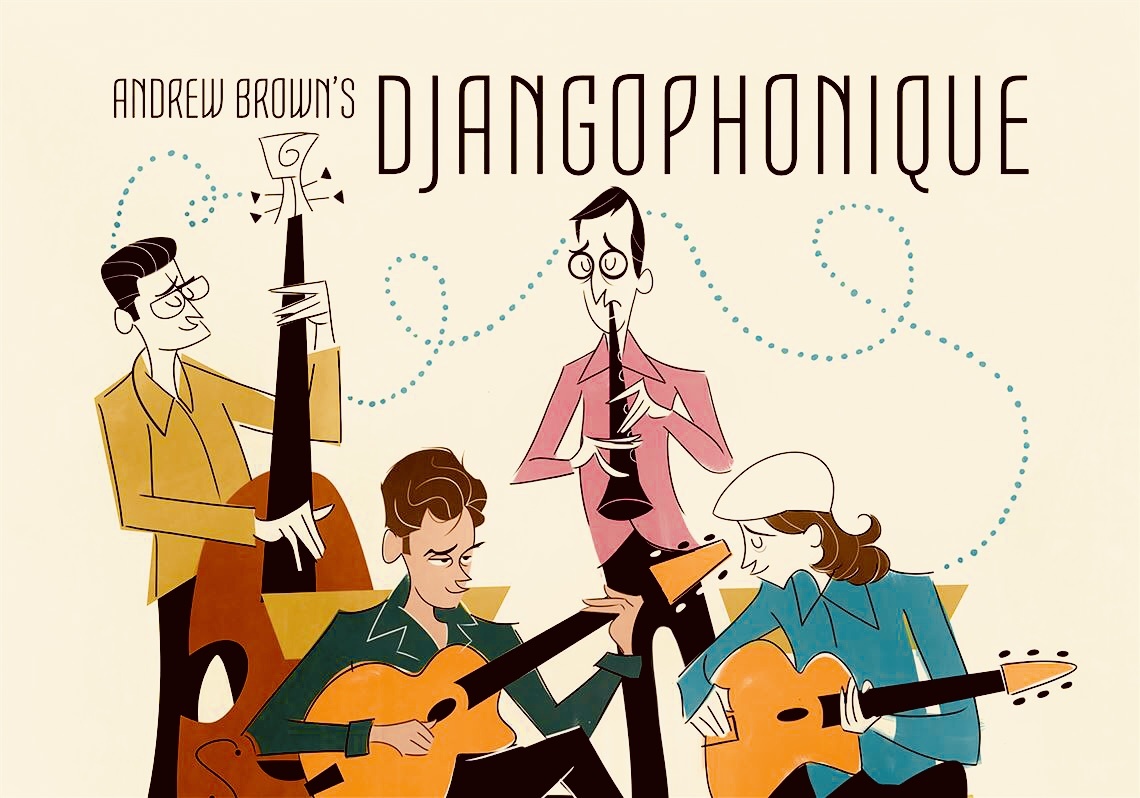 Dinner and a show in our large Dining Room!
The Dining Room will allow us to distance all the tables and with an elevated stage, every table will have a good view.
Enjoy Chef Richard's Four-Course dinner before the show
and then sit back and relax to enjoy the show along with dessert.
Four-Course Dinner and Concert
120. per guest (+beverages, tax and gratuity)
Please plan to arrive at 5:15 pm to be seated
let us know if you need to arrive later (up to 6:30)
Live Performance will begin at 7:00 pm
DJANGOPHONIQUE
Jazz
Djangophonique is a musical project born out of reverence for the Parisian Jazz Manouche style that was made popular by the legendary Sinti guitarist Django Reinhardt and his Quintette du Hot Club de France. While remaining steeped in the rich and virtuosic tradition, the group brings this music into the present with stunning improv, spontaneity, and musical interaction. Hot swing, lush ballads, musette waltzes, jazz standards, boleros, and moody minor pieces are all fused together with theatrical flair and musical humor.
Born in a sandstone Victorian farmhouse that has been in his family since it was built four generations ago, Andrew Brown is the son of a Motown session musician and grew up listening to the sounds of his dad's piano as he steeped in musical influences from Duke Ellington to Stevie Wonder. As a young man returning from a trip to New Orleans with a newfound interest in Swing music, he co-founded the eclectic Americana group Appleseed Collective, with whom he has toured 150+ dates a year.
The Menu
(Subject to change)
Chilled Seafood Marble with Shrimp
chive vinaigrette
~
Autumn Squash Veloute
with bacon and potato crisp
~
Duet of Filet Mignon and Sea Scallops
oyster mushroom bordelaise, whole grain mustard sauce
~
Raspberry Chocolate Torte
caramel sauce
~optional wine pairings available~
The menu can be adjusted for Vegetarians, all seafood, all meat, or any other dietary concerns. When making reservations; please note your request and then call us to confirm 614-451-9774
~wine pairings available~
Booking Policy – Thank you for joining us! Reservations are secured with a credit or debit card.
Your card will not be charged for the evening.
At the conclusion of the event, your table check will include the dinner, music cover, and beverages.
Please see the cancellation policy below. We look forward to serving you soon!
Four-Course Dinner and Concert 120. per guest (+tax and gratuity)
Cancellation Policy – Should your plans change, please let us know at least 48 hours before your reservation.
Cancellation made after this period will incur a $25 fee per guest.
Thank you for your understanding and support!