Olli Soikkeli Duo
Tue May 24
@
5:30 pm
–
8:00 pm
Seating is limited; make reservations early to secure your table.
Four-Course Dinner and Private Concert 120. per guest (+tax and gratuity)
Advance online Reservations (or phone 614-451-9774) are required and confirmed with cc. See booking and cancellation policy below.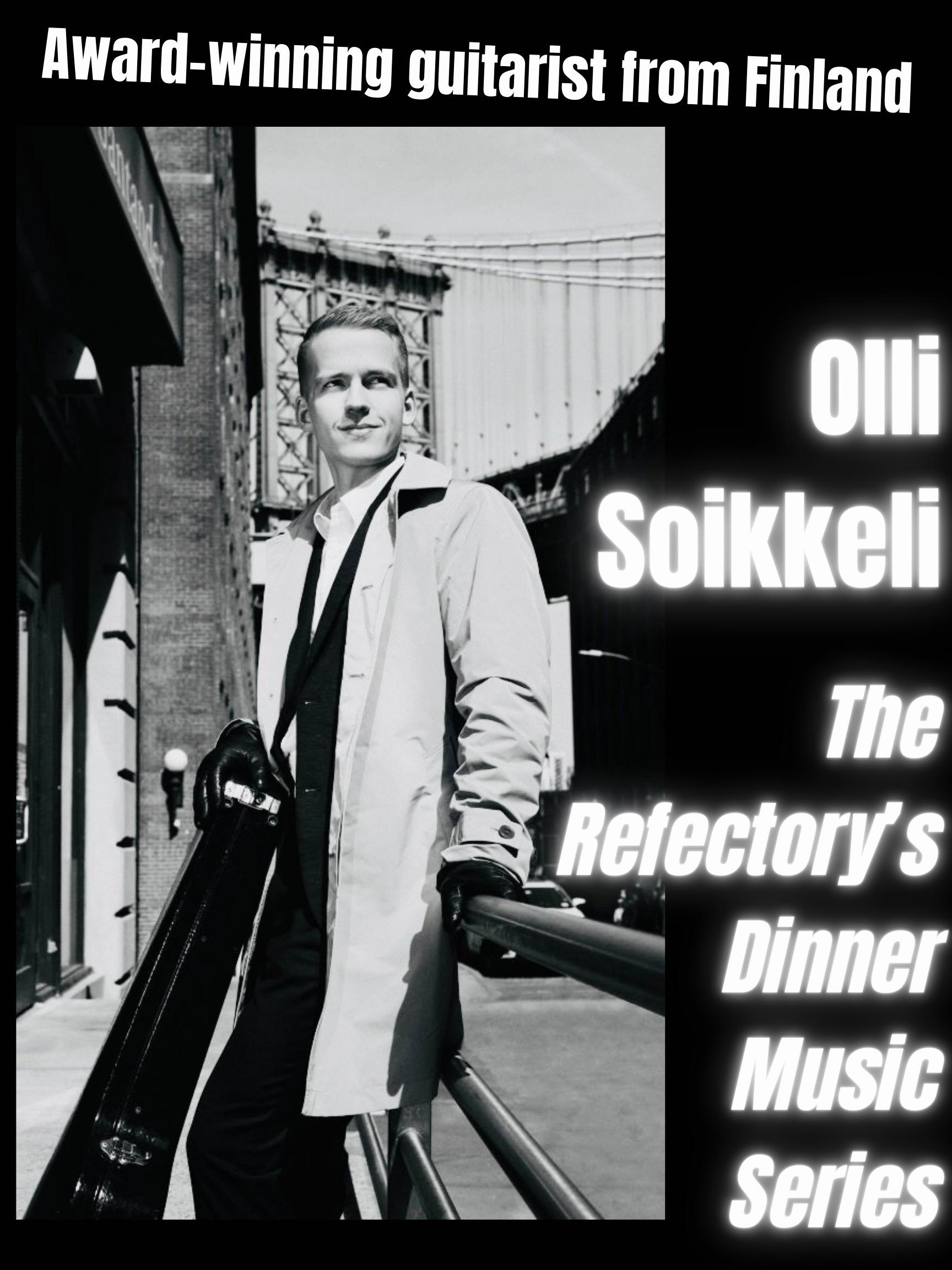 Dinner and a show in our large Dining Room!
The Dining Room will allow us to distance all the tables and with an elevated stage, every table will have a good view.
Enjoy Chef Richard's Four-Course dinner before the show
and then sit back and relax to enjoy the show along with dessert.
Four-Course Dinner and Concert
120. per guest (+beverages, tax, and gratuity)
Please plan to arrive at 5:15 pm to be seated
let us know if you need to arrive later (up to 6:30)
Live Performance will begin at 7:00 pm
Olli Soikkeli Duo
Born in Nurmes, Finland and based in NYC, Soikkeli was introduced to the music of great Django Reinhardt and Gypsy Jazz, which has been his primary focus since. Olli played in jazz clubs and festivals across Finland, and toured Europe with Sinti Guitarist Paulus Schäfer. While still young, he's already played with notable artists such as Bucky Pizzarelli, Stochelo Rosenberg, Tommy Emmanuel, Andreas Öberg, Cyrille Aimee, Antti Sarpila and Marian Petrescu.
After move to New York City in 2014. Olli has played legendary venues such as Town Hall, Herbst Theatre, Birdland Jazz Club, Blue Note, Iridium and the Lincoln Center.
Olli recorded his first album "Trois Générations" (2011) with Hot Club de Finlande and Vitali Imereli and recorded his second album "Kouvola Junction" (2012) with Paulus Schäfer and Arnoud van den Berg.
Last few years Olli has been exploring musically. 2017 toured and recorded album 'Rise and Grind' together with virtuoso accordionist Julien Labro. 2018 Olli started a duo project with New York based Brasilian 7-string guitarist Cesar Garabini playing mostly Brasilian Choro music. Early 2019 Olli recorded with Grammy award winning pianist Marian Petrescu.
The Menu
Salmon and Smoked Salmon Rillettes
Horseradish vinaigrette, blinis, herruga caviar
~
Wild Mushroom Paté
In puff pastry, whole grain mustard sauce
~
Duet of Veal Tenderloin and Roasted Duck Leg
olive bordelaise
~
Black Forest Entremet
crème anglaise, raspberry coulis
(Subject to change)
~optional wine pairings available~
The menu can be adjusted for Vegetarians, all seafood, all meat, or any other dietary concerns. When making reservations; please note your request and then call us to confirm at 614-451-9774
Booking Policy – Thank you for joining us! Reservations are secured with a credit or debit card.
Your card will not be charged for the evening.
At the conclusion of the event, your table check will include the dinner, music cover, and beverages.
Please see the cancellation policy below. We look forward to serving you soon!
Four-Course Dinner and Concert 120. per guest (+tax and gratuity)
Cancellation Policy – Should your plans change, please let us know at least 48 hours before your reservation and we will issue a full refund.
Cancellation made after this period will incur a $25 fee per guest.
Thank you for your understanding and support!