Saturday Samplings ~ South American Stars
Sat March 14, 2020
@
12:00 pm
–
3:00 pm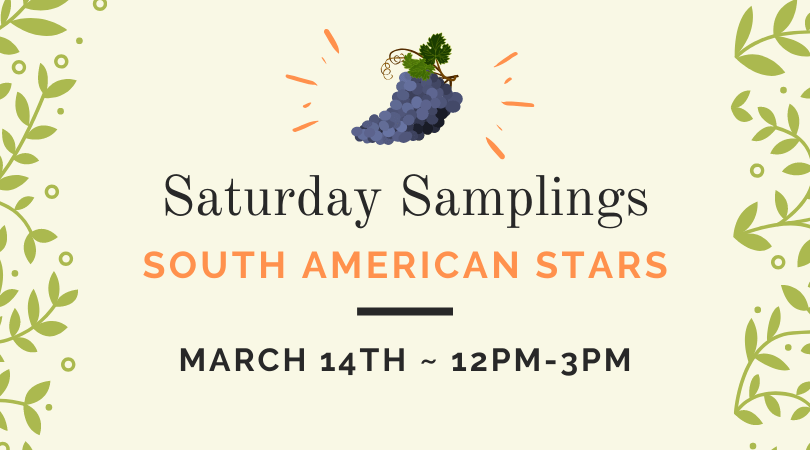 If you're looking for something new to show off at your next dinner party, we recommend 5 superb Wines from South America that, while rarely noticed north of the Equator, deserve a closer look. Best of all, none of the bottles recommended below should set you back more than $25!
Wines will be accompanied by a selection of cheeses, crackers, canapes, artisan breads &olive oil. The cost for one flight (a sample of each of the wines) will be $17.
Come and Sample:
Vina Progreso Viognier, Uruguay, $24.99
90 p Wine &Spirits
"The nose is boldly aromatic rather than delicate, with a big whoosh of lovely apricot, apple blossom and lime zest. The texture on the palate is wonderfully silky, almost like a very fine olive oil, then a big burst of gorgeous citrus ripeness and a cracking, long finish. Yes, this all sounds a bit lavish but it's actually a very tidy and precise wine, a genuine eye-opener and a style of wine we just never expected to find in Uruguay. No oak!"
2. Punao del Itata Pais, Chile, $17.99-The Wildcard!
Gustavo Riffo is a farmer with studies in agriculture. He rescues the best Pais fruit from vineyards located in Portezuelo. The País variety is part of the historical heritage of this valley and has been the source of stable income for the farmers of this region.
3. Vina Progreso Tannat, Uruguay, $16.99
91 p Wine &Spirits, 89p Decanter
Tannat was introduced to Uruguay by Basque settlers in 1870, soon becoming the national grape. It has adapted perfectly to a challenging array of local conditions, producing dark, often powerful wines capable of extended ageing and complexity.
4. La Conception Syrah, Bolivia,$19.99-Silvia's Favorite!
Grown at 6,127 feet above sea level. The high-altitude vines are exposed to high levels of solar radiation that intensify the characteristic of the grapes to create strong fruit flavors balanced with acidity.
5. Bodegas Mi Terruno Reserve Malbec,  Argentina $19.99
93 p James Suckling
An intense red coloration with violet hues. Aromas of tropical red fruits, plums and cherries with hints of vanilla. Good body with sweet and round tannins