The Alex Burgoyne Quartet!
Tue September 21, 2021
@
5:30 pm
–
8:00 pm
Seating is limited; make reservations early to secure your table.
Four-Course Dinner and Private Concert 120. per guest (+tax and gratuity)
Advance online Reservations (or phone 614-451-9774) are required. See booking and cancellation policy below.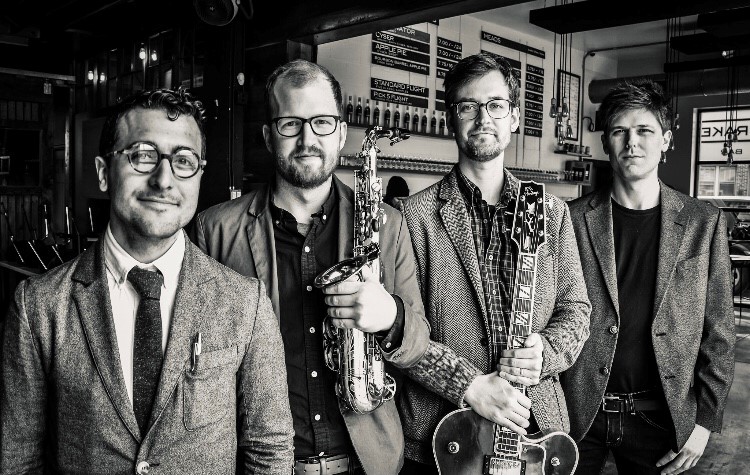 Dinner and a show in our large Dining Room!
The Dining Room will allow us to distance all the tables and with an elevated stage, every table will have a good view.
Enjoy Chef Richard's Four-Course dinner before the show
and then sit back and relax to enjoy the show along with dessert.
Four-Course Dinner and Concert
120. per guest (+beverages, tax and gratuity)
Please plan to arrive at 5:15 pm to be seated
let us know if you need to arrive later (up to 6:30)
Live Performance will begin at 7:00 pm
The Alex Burgoyne Quartet
"Jazz Is Folk"
(Folk classics done in the style of late 50's cool jazz!)
Feat. James Taylor, The Beatles, Paul Simon, Joni Mitchell, and more!
The Alex Burgoyne Quartet (ABQ) has been lighting up nightclubs for nearly a decade, drawing inspiration from the cool jazz collaboration of Jim Hall and Paul Desmond in the late 50s and early 60s. A set with ABQ's easy swing, led by saxophonist Alex Burgoyne, and featuring guitarist Tom Davis, bassist Jason Bash, and drummer Dan DiPiero.
This uniquely curated performance at The Refectory will feature their most favorite folk classics done in the style of late 50's cool jazz! Here are some of the artists they'll be paying tribute to:
James Taylor
The Beatles
Paul Simon
Fleetwood Mac
Neil Young
Pete Seeger
Van Morrison
Joni Mitchell
Leonard Cohen
The Menu
(Subject to change)
Heirloom Tomato with Goat Cheese
basil vinaigrette
~
Chilled Seafood Terrine
saffron mousseline
~
Duck Breast with Shrimp Tempura
a l'orange
~
Chocolate Mousse
Grand Marnier sponge cake
~optional wine pairings available~
The menu can be adjusted for Vegetarians, all seafood, all meat, or any other dietary concerns. When making reservations; please note your request and then call us to confirm 614-451-9774
~wine pairings available
Booking Policy – Thank you for joining us! Reservations are secured with a credit or debit card.
Your card will not be charged for the evening.
At the conclusion of the event, your table check will include the dinner, music cover, and beverages.
Please see the cancellation policy below. We look forward to serving you soon!
Four-Course Dinner and Concert 120. per guest (+tax and gratuity)
Cancellation Policy – Should your plans change, please let us know at least 48 hours before your reservation.
Cancellation made after this period will incur a $25 fee per guest.
Thank you for your understanding and support!