The Mighty Troubadours
Recurring event
see all
Wed February 3, 2021
@
5:15 pm
–
9:00 pm
Seating is limited; make reservations early to secure your table.
Three-Course Dinner and Private Concert 110. per guest (+tax and gratuity)
Advance online Reservations (or phone 614-451-9774) are required and confirmed with cc. See booking and cancellation policy below.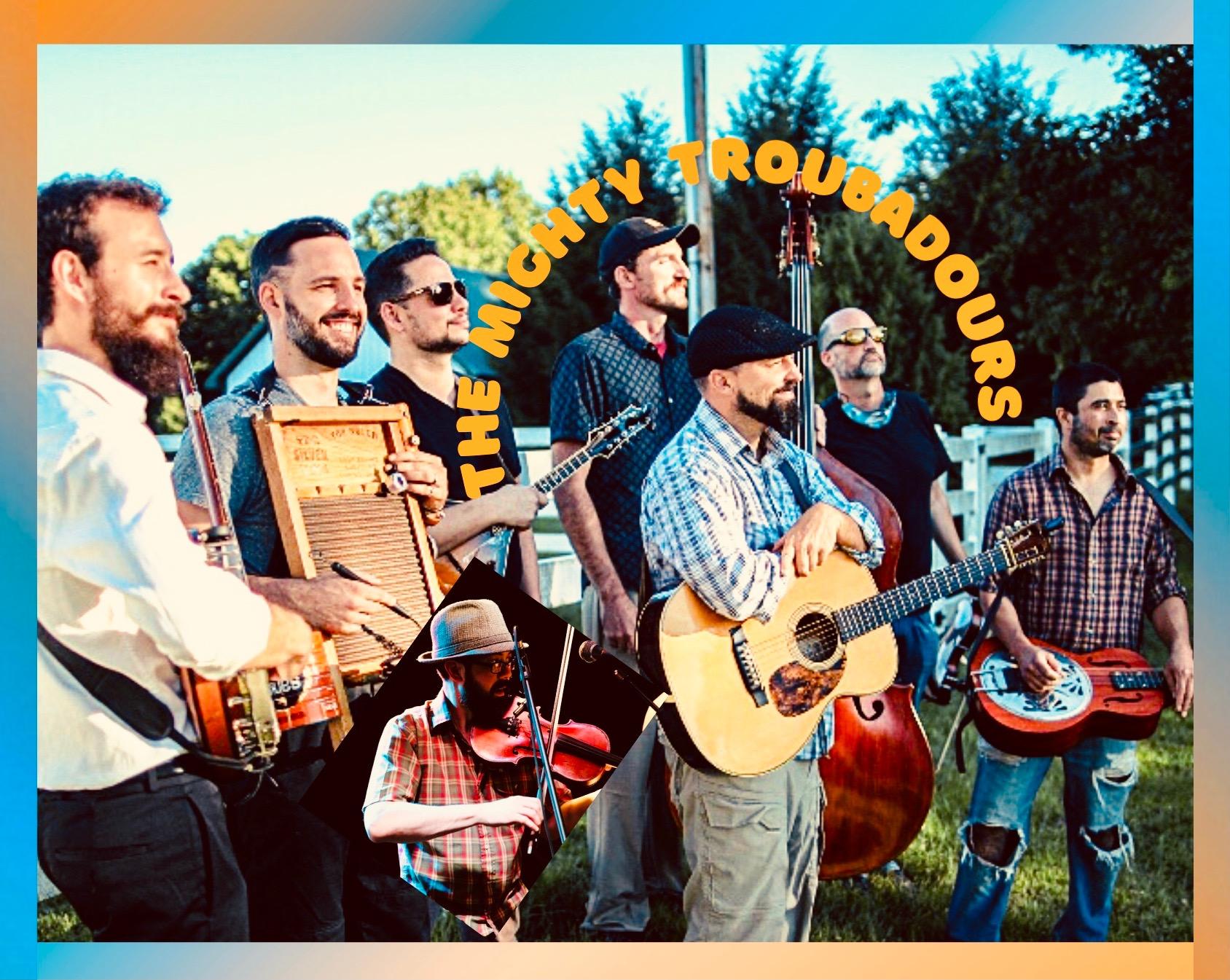 Dinner and a show in our large Dining Room!
The Dining Room will allow us to distance all the tables and with an elevated stage, every table will have a good view.
Enjoy Chef Richard's Three-Course dinner before the show
and then sit back and relax to enjoy the show along with dessert.
Three-Course Dinner and Concert
110. per guest (+beverages, tax and gratuity)
Please plan to arrive at 5:15 pm to be seated
let us know if you need to arrive later (up to 6:30)
Live Performance will begin at 7:00 pm
The Mighty Troubadours are a vocally-oriented string-band that offers an eclectic blend of traditional and contemporary bluegrass music.
The band will be a collaboration of local performers including our very own Joseph Gardina, Aaron Snyder, James Hendrickson, Mark Gonzales, and special guest Skott Brown on fiddle.
This eclectic mix of styles is unified by the common acoustic threads of mandolin, guitar, violin, and bass. Their soulful harmonies and "grassy" instrumentation encompass a true Americana style.
The Menu
(Subject to change)
Service of Plated Hors D'oeuvres
Croque Monsieur with leoncini ham and mornay sauce. Salmon Rillette. Warm profiterole stuffed with savory pumpkin puree
1st – Lobster Terrine with champagne vinaigrette, trout caviar, and microgreens
2nd– Duet of Quail and Seabass – Quail stuffed with veal and chestnut mousseline, winter hunters sauce, and Roasted Chilean Seabass with bonne femme sauce.
3rd– Triple Chocolate Torte with crème anglaise and raspberry sauce
The menu can be adjusted for Vegetarians, all seafood, all meat, or any other dietary concerns. When making reservations; please note your request and then call us to confirm 614-451-9774
~optional wine pairings available~
Booking Policy – Thank you for joining us! Reservations are secured with a credit or debit card.
Your card will be charged for the dinner, music cover, tax, and gratuity.
All beverages and additional items are paid for at the conclusion of the event.
For a full refund see the cancellation policy below. We look forward to serving you
Three-Course Dinner and Concert 110. per guest (+tax and gratuity)
Cancellation Policy – Should your plans change, please let us know at least 48 hours before your reservation and we will issue a full refund.
Cancellation made after this period will incur a $25 fee per guest.
Thank you for your understanding and support!