Tony Monaco
Tue October 10
@
6:00 pm
–
8:30 pm
Seating is limited; make reservations early to secure your table.
Four-Course Dinner and Private Concert 140. per guest (+tax and gratuity)
Advance online Reservations (or phone 614-451-9774) are required and confirmed with cc. See booking and cancellation policy below.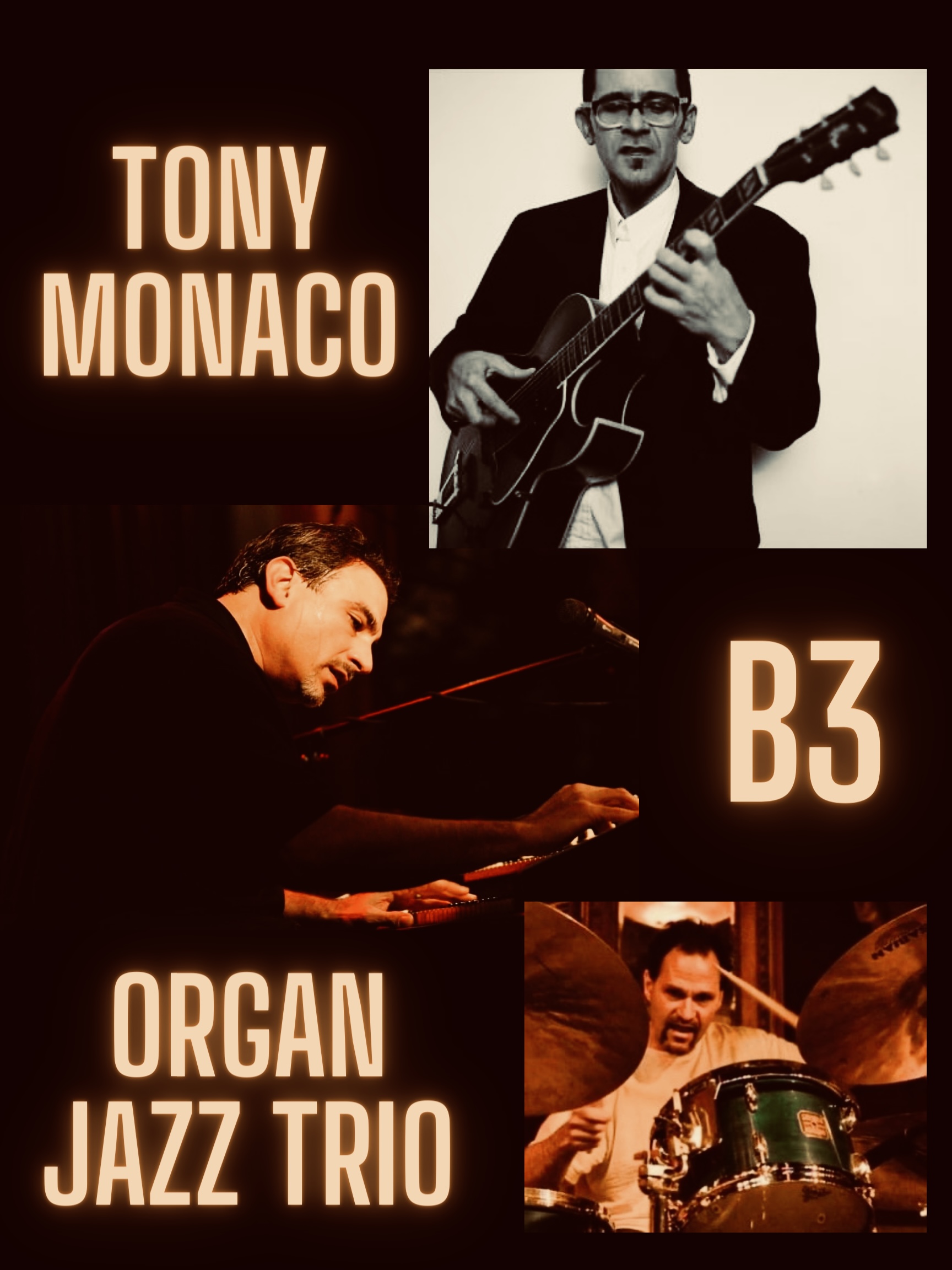 Dinner and a show in our large Dining Room!
The Dining Room will allow us to distance all the tables and with an elevated stage, every table will have a good view.
Enjoy Chef Richard's Four-Course dinner before the show
and then sit back and relax to enjoy the show along with dessert.
Four-Course Dinner and Concert
140. per guest (+beverages, tax, and gratuity)
Please plan to arrive at 6:00 pm to be seated
let us know if you need to arrive later (up to 6:30)
Tony Monaco
World-Renowned Hammond B3 Jazz Trio!
Tony Monaco may be the best organ player you have yet to hear of flying stealth while playing arguably some of the hottest B-3 around. Mentored by the legendary Jimmy Smith in what is considered the more classic style, Monaco does not swing, smolder or smoke. "Tony Monaco burns is this most fitting!" Critical Jazz Review 2012. Tony Monaco began his keyboard life at age eight. When he was twelve, his destiny as a jazz org World-renowned Hammond B3 Jazz Trio! An enthusiastic student, Tony began working in Jazz clubs as a teenager in his native Columbus, Ohio, guided by local organ gurus Hank Marr and Don Patterson. Four years later, Jimmy Smith invited Tony to come play at his club in California, a peak lifetime experience for Tony.
In April 2000, Tony met fellow jazz organist Joey DeFrancesco, who offered to produce a debut CD for him. This collaboration resulted in the critically acclaimed "Burnin Grooves". The international success of the recording served as the catalyst for regional and national tours. Tony has since released 8 International releases and toured around the globe many times. Tony also toured and recorded with Pat Martino for over two years! As an ardent student of the organ, it's no surprise that Tony is an accomplished teacher as well. In addition to private students, classes and clinics, Tony has produced a series of instructional DVDs titled "Playing Jazz Hammond" that have become indispensable for many serious students of the organ. Tony continues to expand his catalogue using most update technologies. He developed a system of giving lessons one on one online and gives lessons to students around the globe! His passion for teaching allowed him to secure his "Artist in Residence" status at Hope College in Holland Michigan where he teaches students both online as well as regular workshops groups and one-on-ones at the College. Tony is very proud and excited to be releasing his 11th international CD "The Definition of Insanity" on Chicken Coup Records January 2019! Featuring Jam, Funk, Vocals, Italian Traditional and Latin with his current Trio ! Presently, Tony maintains a very busy schedule that includes festival appearances , clinics, and workshops !
The Menu
Quail and White Bean Terrine
tomato vinaigrette
~
Sea Scallop Mousse and Mussels
saffron vin blanc sauce
~
Roasted Veal Tenderloin
herbs de Provence marinated, wild mushroom sauce
~
Lemon Verbena Bavarian
chocolate coulis
(Subject to change)
~optional wine pairings available~
The menu can be adjusted for Vegetarians, all seafood, all meat, or any other dietary concerns. When making reservations; please note your request and then call us to confirm at 614-451-9774
Booking Policy – Thank you for joining us! Reservations are secured with a credit or debit card.
Your card will not be charged for the evening.
At the conclusion of the event, your table check will include the dinner, music cover, and beverages.
Please see the cancellation policy below. We look forward to serving you soon!
Four-Course Dinner and Concert 140. per guest (+tax and gratuity)
Cancellation Policy – Should your plans change, please let us know at least 48 hours before your reservation and we will issue a full refund.
Cancellation made after this period will incur a $25 fee per guest.
Thank you for your understanding and support!