A Tribute to Classic Video Game Music
Tue August 31, 2021
@
5:30 pm
–
8:00 pm
Seating is limited; make reservations early to secure your table.
Four-Course Dinner and Private Concert 140. per guest, 95. for children (+tax and gratuity)
Advance online Reservations (or phone 614-451-9774) are required. See booking and cancellation policy below.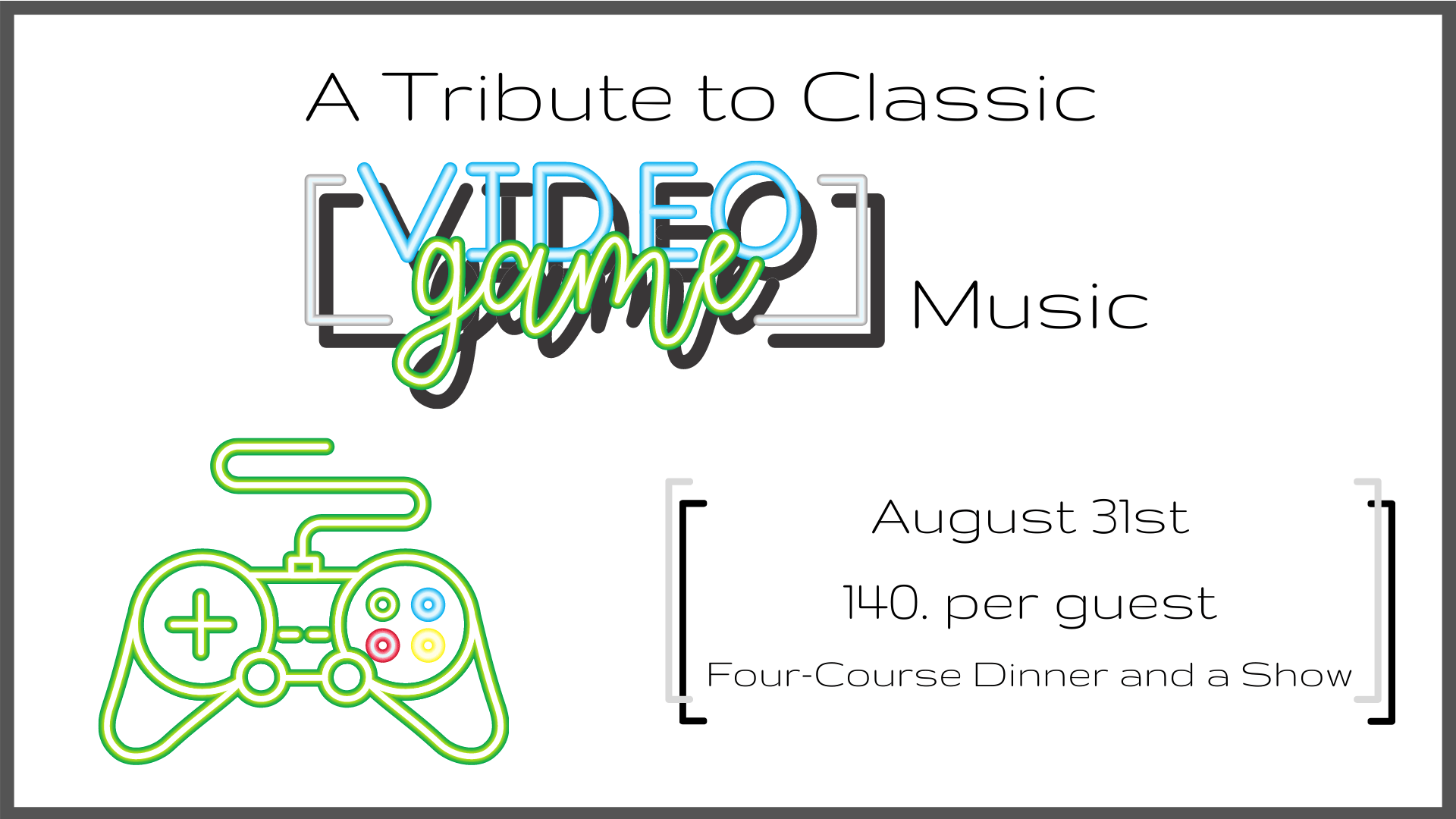 Dinner and a show in our large Dining Room!
The Dining Room will allow us to distance all the tables and with an elevated stage, every table will have a good view.
Enjoy Chef Richard's Four-Course dinner before the show
and then sit back and relax to enjoy the show along with dessert.
Four-Course Dinner and Concert
140. per guest (+beverages, tax and gratuity)
Please plan to arrive at 5:15 pm to be seated
let us know if you need to arrive later (up to 6:30)
Live Performance will begin at 7:00 pm
Chamber Brews String Quartet
It's dangerous to go alone! Take this opportunity to enjoy all your favorite tunes from the worlds of plumbers jumping on turtles, falling four-piece blocks, maternal brains in jars taking over entire planets, vampire hunters with whips, and so many more! You won't have to blow out the cartridges to hear these pieces come to life as they'll be performed by the Chamber Brews String Quartet. https://www.chamberbrews.com/
Chamber Brews is a collaborative chamber music project that features some of the best and most creative musicians in Columbus, OH. They host events in accessible venues with killer musicians for a unique experience of music, food, beer, coffee, and conversation.
The Menu
(Subject to change)
Tomato and Summer Beet Salad
piment d'espelette vinaigrette
~
 Chilled Marinated Wild Mushrooms
vichyssoise vinaigrette
~
Duet of Halibut and Filet Mignon
dijon sauce, rosemary bordelaise
~
Crème Brûlée
Chocolate tuile
~optional wine pairings available~
The menu can be adjusted for Vegetarians, all seafood, all meat, or any other dietary concerns. When making reservations; please note your request and then call us to confirm 614-451-9774
~wine pairings available~
Booking Policy – Thank you for joining us! Reservations are secured with a credit or debit card.
Your card will not be charged for the evening.
At the conclusion of the event, your table check will include the dinner, music cover, and beverages.
Please see the cancellation policy below. We look forward to serving you soon!
Four-Course Dinner and Concert 140. per guest (+tax and gratuity)
Cancellation Policy – Should your plans change, please let us know at least 48 hours before your reservation.
Cancellation made after this period will incur a $25 fee per guest.
Thank you for your understanding and support!