Wines Of Sicily!
Tue February 1, 2022
@
6:00 pm
–
8:30 pm
$150
plus tax and gratuity
Please reserve and pre-pay for your tasting package by calling 614-451-9774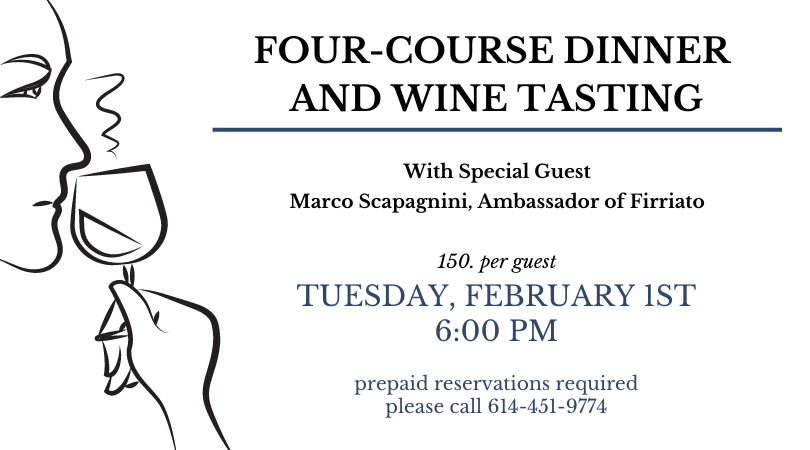 WINES OF SICILY!
Please join Marco Scapagnini, Ambassador of Firriato, originally from Naples, Italy.
He will share his love and passion for Sicilian Wines and the culture.
The Four-Course Menu with Wine Pairings
Goat Cheese Crostini
shallots, fresh beets, prosciutto, balsamic
Gaudensius Blanc de Noir Metodo Classico
*
Seafood Coulibiac
fresh seafood, baked in puff pastry, saffron sauce
Favinia La Muciara Bianco
*
Roast Veal Tenderloin
parmesan and basil risotto, onion sundried tomato sauce
2014 Signum Aetnae Rosso Riserva
2015 Quater Vitis Rosso
*
Vanilla Panna Cotta
orange caramel sauce
Favinia Passito
---
Tuesday February 1, 2021 ~ 6:00 pm
Four-Course Dinner with Five Wines
150.00 per guest
plus tax, gratuity
*
Advance Phone Reservations Required
confirmed with Debit or CC
614-451-9774
Wines will be available for retail purchase.
Enjoy a private space and well-spaced tables for this event!
Pre-Paid Reservations are required.
To make reservations please call us at 614-451-9774
3.5% processing fee for cc: no fee for debit or cash
limited tables available

Arrival 6:30 pm
150.00 includes tax and gratuity