Diego Figueiredo
Tue October 4
@
5:30 pm
–
8:00 pm
Seating is limited; make reservations early to secure your table.
Four-Course Dinner and Private Concert 130. per guest (+tax and gratuity)
Advance online Reservations (or phone 614-451-9774) are required and confirmed with cc. See booking and cancellation policy below.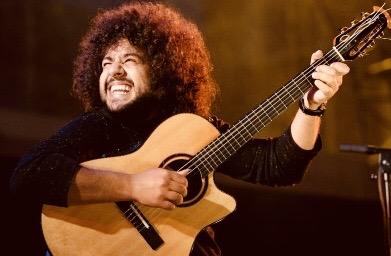 Dinner and a show in our large Dining Room!
The Dining Room will allow us to distance all the tables and with an elevated stage, every table will have a good view.
Enjoy Chef Richard's Four-Course dinner before the show
and then sit back and relax to enjoy the show along with dessert.
Four-Course Dinner and Concert
130. per guest (+beverages, tax, and gratuity)
Please plan to arrive at 5:15 pm to be seated
let us know if you need to arrive later (up to 6:30)
Live Performance will begin at 7:00 pm
Diego Figueiredo
GRAMMY-nominated guitarist Diego Figueiredo is a virtuoso with an infectious, joyful feeling that will leave you amazed and happy. Don't miss this opportunity to discover this incredible artist.
Diego Figueiredo is an extraordinary star among the world's greatest jazz guitarists. His superb technique, timing, and imagination have made him one of the hottest international names right now. He has very unique skills and his concert have been a great success in more than 60 countries around the world.
He has already released 28 CDS, 3 DVDs, and a book and he has received awards twice at the "MONTREUX JAZZ FESTIVAL" as one of the greatest guitarists in the world. Diego Figueiredo performs one amazing concert uniting technique and emotion in a fusion of Brazilian music and jazz.
Diego Figueiredo is a brilliant musician who keeps the tradition of the true essence of Brazilian music and at the same time can be extremely virtuous, modern, and innovative.
The Menu
Chilled Shrimp and Smoked Salmon Ragout
dill remoulade
~
Warm Butternut Squash, Artichoke, and Veal Marble
charcutière sauce
~
Confit of Duck
pesto, supreme velouté
~
Chocolate Opera Gateau
amaretto crème anglaise
(Subject to change)
~optional wine pairings available~
The menu can be adjusted for Vegetarians, all seafood, all meat, or any other dietary concerns. When making reservations; please note your request and then call us to confirm at 614-451-9774
Booking Policy – Thank you for joining us! Reservations are secured with a credit or debit card.
Your card will not be charged for the evening.
At the conclusion of the event, your table check will include the dinner, music cover, and beverages.
Please see the cancellation policy below. We look forward to serving you soon!
Four-Course Dinner and Concert 120. per guest (+tax and gratuity)
Cancellation Policy – Should your plans change, please let us know at least 48 hours before your reservation and we will issue a full refund.
Cancellation made after this period will incur a $25 fee per guest.
Thank you for your understanding and support!