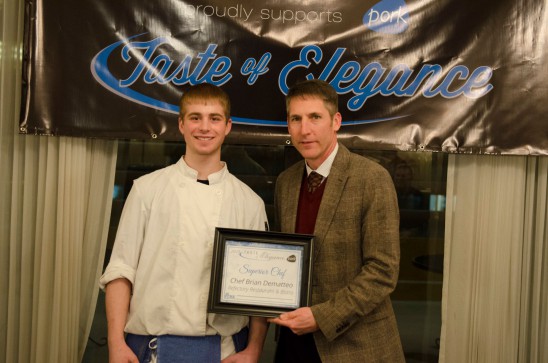 Ohio farmers hosted a chefs' competition at the recent Taste of Elegance Reception. The results were, as you can imagine, quite tasty…our very own Brian DeMatteo participated in this event, and won 2nd place! Congratulations Brian!

---
– Official Press Release –
Date: February 9, 2016
OHIO FARMERS HOST CHEFS' COMPETITION AT ANNUAL TASTE OF ELEGANCE RECEPTION
Columbus – Chef Drew Patterson of the Wexner Medical Center took top honors at the Ohio Pork Council's Taste of Elegance Chefs Competition and Legislative Reception on February 9 at the Doubletree in Columbus, earning the coveted Chef Par Excellence award.
Chef Brian Dematteo of the Refectory Restaurant and Bistro in Columbus was named Superior Chef while Matthew Langstaff of Prohibition Gastro Lounge in Powell was selected Premier Chef. Langstaff also earned the People's Choice Award.






This year each of the three chefs prepared an appetizer and entrée featuring pork. Judging the event were Chef Alfonso Contrisciani, CMC, Executive Chef, Culinary Operations, Hocking College; Chef Hubert Seifert SPAGIO Restaurant and Wine Lounge and Aubergine Private Dinner Club; and Chef Melissa Meola, Cameron Mitchell Restaurants and 2015 Chef Par Excellence.
In keeping with the tradition, A Taste of Elegance's evening began with guests receiving white gloves and a pork chop. After sampling assorted cheeses and appetizers, they were invited to taste samples from each of the chef's menu. Additionally, a selection of Ohio wines was offered by Ohio Grape Industries.
The evening provides a unique opportunity for Ohio farmers to mingle with chefs who have prepared the fruit of their efforts – pork – in unique and exciting ways. Although many farmers have spent their lives raising pigs, few have had the opportunity to dine on what may be considered culinary delicacies, like tail or cheek.
Pork chops, as well as the pork used by each of the chefs, was donated by the J.H. Routh Packing Company in Sandusky.
Event sponsors included Ohio Pork Council, American Culinary Federation, Ohio Soybean Council, The J. H. Routh Packing Company, Farm Credit Services of Mid-America, the Ohio Farm Bureau Federation, United Producers, Zoetis and Ohio Grape Industries.