Henhouse Prowlers
Mon October 16
@
6:00 pm
–
8:30 pm
Seating is limited; make reservations early to secure your table.
Four-Course Dinner and Private Concert 130. per guest (+tax and gratuity)
Advance online Reservations (or phone 614-451-9774) are required and confirmed with cc. See booking and cancellation policy below.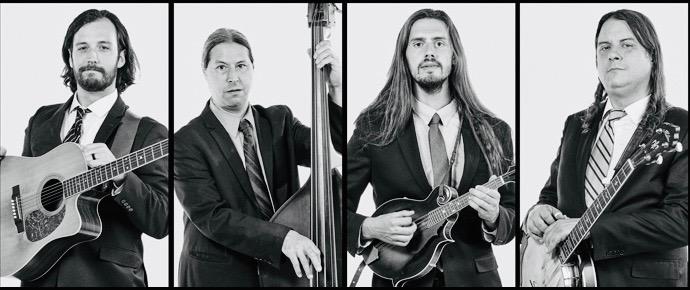 Dinner and a show in our large Dining Room!
The Dining Room will allow us to distance all the tables and with an elevated stage, every table will have a good view.
Enjoy Chef Richard's Four-Course dinner before the show
and then sit back and relax to enjoy the show along with dessert.
Four-Course Dinner and Concert
130. per guest (+beverages, tax, and gratuity)
Please plan to arrive at 6:00 pm to be seated
let us know if you need to arrive later (up to 6:30)
Henhouse Prowlers
In nearly 17 years since the henhouse prowlers' inception, the band has forged its own path through music and across the globe.
On stage, the group's enthralling performances give audiences a sense of how much they love what they do; while on record, the band manages to explore their collective life experiences through songwriting and intricate instrumentation. While bluegrass is the undeniable foundation of the Prowlers music, the band manages to bend and squeeze the traditional form into a sound all their own.
With over 175 shows a year, the quartet has toured over 25 countries, often going to places traditional American music has never been.
Tours in Siberia or the Middle East are not uncommon since the Prowlers started working as cultural ambassadors with the US State Department in 2013. These global experiences have pushed the band in new directions musically, with songs from Africa and Asia on several albums, but they have also moved the group to start an educational outreach program for both school children and festival-goers alike.
The Menu
The Menu Will Be Posted Closer To The Event
(Subject to change)
~optional wine pairings available~
The menu can be adjusted for Vegetarians, all seafood, all meat, or any other dietary concerns. When making reservations; please note your request and then call us to confirm at 614-451-9774
Booking Policy – Thank you for joining us! Reservations are secured with a credit or debit card.
Your card will not be charged for the evening.
At the conclusion of the event, your table check will include the dinner, music cover, and beverages.
Please see the cancellation policy below. We look forward to serving you soon!
Four-Course Dinner and Concert 130. per guest (+tax and gratuity)
Cancellation Policy – Should your plans change, please let us know at least 48 hours before your reservation and we will issue a full refund.
Cancellation made after this period will incur a $25 fee per guest.
Thank you for your understanding and support!