The Honey Dewdrops
Mon April 17
@
5:30 pm
–
8:00 pm
Seating is limited; make reservations early to secure your table.
Four-Course Dinner and Private Concert 130. per guest (+tax and gratuity)
Advance online Reservations (or phone 614-451-9774) are required and confirmed with cc. See booking and cancellation policy below.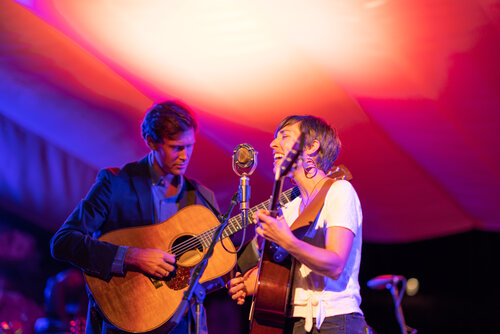 Dinner and a show in our large Dining Room!
The Dining Room will allow us to distance all the tables and with an elevated stage, every table will have a good view.
Enjoy Chef Richard's Four-Course dinner before the show
and then sit back and relax to enjoy the show along with dessert.
Four-Course Dinner and Concert
130. per guest (+beverages, tax, and gratuity)
Please plan to arrive at 5:15 pm to be seated
let us know if you need to arrive later (up to 6:30)
Live Performance will begin at 7:00 pm
The Honey Dewdrops
Virginia raised and Maryland based, Laura Wortman and Kagey Parrish of The Honey Dewdrops began touring in 2009 and have called the city of Baltimore home since 2014. With several albums and thirteen years of playing shows on the road, Laura and Kagey continue to expand their experimental folk sound while maintaining a commitment to deepening their understanding of the world through the lens of music. No Depression says of the new album, Light Behind Light, "The Honey Dewdrops have a way of filling their songs with humanity, using their beautiful playing and harmonies to emphasize what connects us all."
When they're not on tour, you can find Laura and Kagey playing in Baltimore with their Fred Eaglesmith tribute band, contributing backing vocals and instrumental sounds to various community recording projects, and you'll probably see them going for a run in and around their neighborhood.
The Menu
Asparagus Salad
Smoked salmon, champagne vinaigrette, herruga caviar
~
Lake Walleye
Whole grain vin blanc
~
Filet Mignon
Beef tenderloin medallion, green peppercorn bordelaise
~
Chocolate and Blood Orange Dome
Grand Marnier butter sauce
(Subject to change)
~optional wine pairings available~
The menu can be adjusted for Vegetarians, all seafood, all meat, or any other dietary concerns. When making reservations; please note your request and then call us to confirm at 614-451-9774
Booking Policy – Thank you for joining us! Reservations are secured with a credit or debit card.
Your card will not be charged for the evening.
At the conclusion of the event, your table check will include the dinner, music cover, and beverages.
Please see the cancellation policy below. We look forward to serving you soon!
Four-Course Dinner and Concert 130. per guest (+tax and gratuity)
Cancellation Policy – Should your plans change, please let us know at least 48 hours before your reservation and we will issue a full refund.
Cancellation made after this period will incur a $25 fee per guest.
Thank you for your understanding and support!