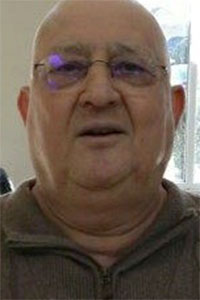 As many of you may know, Ali Menasria, who has been with The Refectory for many years has been battling cancer for quite some time.
These are the updates, we have posted since the battle intensified…
Ali is a blessing to know and a privilege to work with…
5/21/2019
Ali Menasaria is in Rhoads Hall Hospice of Central Ohio 7th floor. Visiting is 24/7. This is in the Main OSU hospital, connected to the James. Room 724. His cancer has progressed quickly and he is no longer responsive. So this the time for goodbyes…
5/20/2019
Sad news today, Late this afternoon I received a text from Ali's wife and he has taken a turn for the worse… As you may recall the cancer had spread to his brain and Ali had expected to receive treatments for the next 6-8 weeks for his lungs and brain. Sadly, his wife informed me that Ali has been moved from the ICU at the Rhoads Hall Hospice – 7th floor. This is the main OSU Hospital – Room 724; and he is very delirious… Elaine said she did not expect Ali to be there very long… Your prayers and thoughts would be greatly appreciated and if I find out any other details, I will let you know… Thanks, Kamal
5/9/2019
Ali remains very upbeat and positive as he goes through this battle and these next steps and procedures. As you may know, his sister is a 100% match for a bone marrow transplant and has come to the US for this procedure. They have indeed extracted her stem cells and frozen them to be used for Ali in the next two months or so. Until then, Ali is going through a five – week course of treatment for brain cancer. This will be followed by a four week course of treatment for nodule in his lung. After the nine weeks, the procedure for the bone marrow transplant will take place. We deeply appreciate for all of your continued prayers and support on Ali's behalf. With much gratitude, Kamal (and for Ali)
4/9/2019
Finding out if you are a potential donor the first step is just a simple swab of the cheek. Five swabs were Sent with UPS by James Cancer Center to Algiers where my siblings (3 sisters and 2 brothers) live. Statistically 7 in 10 siblings don't match, 2 in 10 match at 25, 50, or 75%. Less than 10% do match at 100%. It took one week for the swabs to be returned and the results showed that out of five siblings my baby sister is a 100% perfect match! With the approval of my doctors she was designated as the donor. She will be arriving in Ohio on March 30th, 2019. With her cells on hand, first I get Chemo to kill most unhealthy cells that I still carry. then donated healthy cells are given to me intravenously. The new cells travel to the inside of the bones and begin producing healthy cells. Will let you know how this turns out!
I can't not begin to thank you all enough for your continued love, prayers, friendship, encouragement and support which helps make this possible!
With much gratitude, Ali
To make a donation to Ali's gofundme page click here
---
At The Refectory, we are a family. We are sad to share the challenges currently facing one of our well-known family members, Ali Menasria, former general manager at Alex's Bistro and long-time part of The Refectory.
Ali is an avid wine enthusiast, a gentleman, and one of the warmest and most gracious people with whom we have had the privilege of working. After twenty-three years with Alex's Bistro and now at The Refectory. Ali is well known among the guests who dine out regularly in Northwest Columbus.
In April of 2017, Ali was diagnosed with leukemia and soon after began a long series of treatments. During this time, the treatments have been relatively positive after some initial setbacks and adverse reactions. Ali was able to come back to work part-time, monitoring his progress as he continued intermittent treatments.
In September of 2018, the initial leukemia developed into Richter's syndrome. Ali is now battling a more aggressive form of lymphoma. Since then, he has been in the James Cancer Hospital for short and sometimes more extended stays and treatments.
Ali is currently undergoing a treatment of six sessions of chemo, which will end on January 31st, 2019. The outlook for this is positive. The Doctors are optimistic that Ali will hopefully be in remission by the end of this course of treatment. When in remission, the next step would be a bone marrow transplant. The matching donor is Ali's brother Zinedine, who lives in his native city of Algiers, Algeria and will be traveling here in March of 2019, for the bone marrow transplant surgery.
Ali is fighting hard though this process and as always his spirit is very positive. We are so blessed to know Ali and we stand with him in this battle for physical health and look forward to his return to The Refectory at whatever time he is ready.  In our continual efforts to assist Ali and his family during this difficult time we have created a GoFundMe Campaign.
We greatly appreciate your thoughts and prayers for Ali and his family, as well as any assistance you might be able to offer. Please don't hesitate to send him notes of encouragement
Ali Menasria
4406 Kenny Rd
Columbus OH 43220-4076
I can't begin to thank you enough for your kindness, generosity and support.
With my deepest gratitude,
Kamal Boulos
Owner
The Refectory
To make a donation to Ali's gofundme page click here
Read More