The Whirlybirds
Tue December 19
@
6:00 pm
–
8:30 pm
Seating is limited; make reservations early to secure your table.
Four-Course Dinner and Private Concert 120. per guest (+tax and gratuity)
Advance online Reservations (or phone 614-451-9774) are required and confirmed with cc. See booking and cancellation policy below.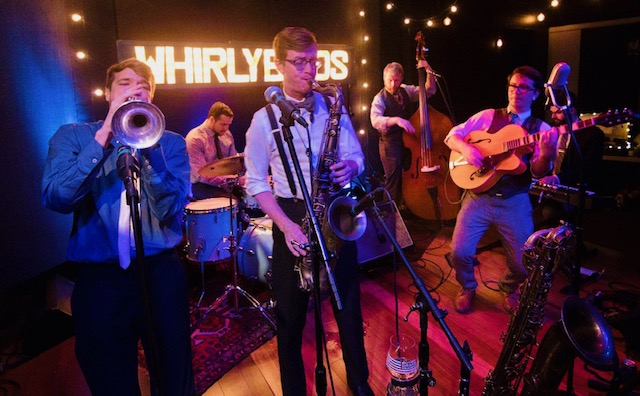 Dinner and a show in our large Dining Room!
The Dining Room will allow us to distance all the tables and with an elevated stage, every table will have a good view.
Enjoy Chef Richard's Four-Course dinner before the show
and then sit back and relax to enjoy the show along with dessert.
Four-Course Dinner and Concert
120. per guest (+beverages, tax, and gratuity)
Please plan to arrive at 6:00 pm to be seated
let us know if you need to arrive later (up to 6:30)
The Whirlybirds
Swing / Hot Jazz
Whirlybirds formed in 2016 when Joe Gilliland, former bandleader of The DewDroppers, decided to continue creating the kind of accessible, catchy, pop-swing sound the band was known for despite some members parting ways. With clarinet/saxophonist Joseph Brenneman and bassist Trent Sampson in tow, he set out to construct a new project. With the addition of Nick Simko on trumpet, Max Marsillo on drums, and Jacob Campbell on keys, Whirlybirds was born.
The band quickly began to develop its own spin on the style, delving deeper into New Orleans style Dixieland and pre-WWII era jazz while still incorporating more modern elements of jazz, pop, soul, and funk. The result is unique arrangements of original music (as well as standards/covers) designed to engage and entertain the audience in a high-energy, live show the audience won't soon forget. Whirlybirds can be enjoyed by audiences of young and old, whether they be connoisseurs of jazz or simply casual concertgoers. Dynamic enough for a small dinner engagement or full-blown concert stage.
The Menu
The Menu Will Be Posted Closer To The Event
(Subject to change)
~optional wine pairings available~
The menu can be adjusted for Vegetarians, all seafood, all meat, or any other dietary concerns. When making reservations; please note your request and then call us to confirm at 614-451-9774
Booking Policy – Thank you for joining us! Reservations are secured with a credit or debit card.
Your card will not be charged for the evening.
At the conclusion of the event, your table check will include the dinner, music cover, and beverages.
Please see the cancellation policy below. We look forward to serving you soon!
Four-Course Dinner and Concert 120. per guest (+tax and gratuity)
Cancellation Policy – Should your plans change, please let us know at least 48 hours before your reservation and we will issue a full refund.
Cancellation made after this period will incur a $25 fee per guest.
Thank you for your understanding and support!